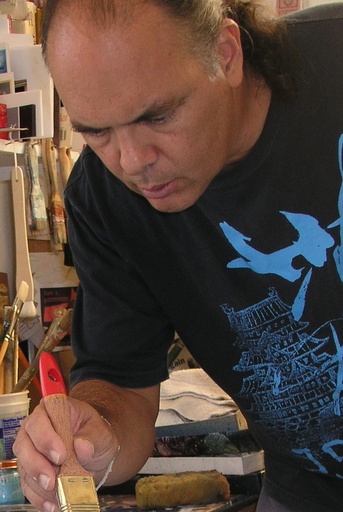 Stan Kuiperi (Aruba, 1954) is docent Beeldende Vorming (1e Graads, SOL, Tilburg 1981, Sticusa studiebeurs). Hij is thans Beleidsadviseur bij het Ministerie van Algemene Zaken, en actief op het gebied van kunstonderwijs, gemeenschapsprojekten, eigen kunstproduktie, en het houden van internationale lezingen en schrijven over cultuur en kunst op Aruba. Hij is tevens oprichter van de Aruba Intl. Arts Foundation (NGO) en de Aruba Arts Community website. Zijn schilderijen, geinspireerd door het Arubaanse landschap, zijn multidimensionele ruimten waarin zelfontdekking en de confrontatie tussen mens en natuur plaatsvindt.
Stan Kuiperi (Aruba, 1954) is an Art Education teacher and visual artist residing in Aruba. He is currently a Cultural Policy Advisor at the Aruba Government Ministry of General Affairs. He is active in art education, art creation, community arts projects, and lectures and writes about culture and the arts.
He has lived in the Caribbean (Puerto Rico), the USA (Florida) and Europe (the Netherlands, France) and holds a MEd Art Education Degree. After having lived abroad for 15 years, Stan Kuiperi resettled in Aruba at the end of 1984 to teach art education, and to contribute to the general cultural development of the Aruban community. He married Aruban modern ballet dancer, choreographer and teacher Wilma Valeria Jansen in 1978. They have two children, Lara and Astor.
The surealist landscapes of Aruba were an early source of inspiration for his abstract paintings, with which he consolidated a place for modern art in Aruban art history. Years of developing a personal visual language through color, form, composition, and texture have led to the multidimensionality of his landscapes: There is much more "beyond" the landscape than meets the eye.